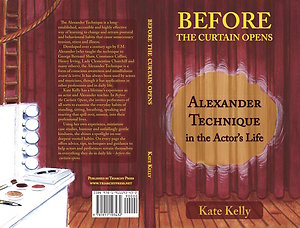 F Mathias Alexander was an actor who understood what a performer needs to maintain energy and support expression in performance. I offer workshops and individual lessons to performers (in all walks of life) with a particular emphasis on this support as well as the improvement of vocal use, ease of breathing and balance.

Something to consider

We are originally designed to let breath
come in through the nose
where it is warmed and filtered before
it passes over the vocal chords and into the lungs.
Smell a beautiful flower as you pass and you will notice
that your air passageways just open
and your tummy muscles relax.
Free and easy every day breathing
is the best foundation for all the techniques
you learn to project your voice.

"Before the curtain opens, Alexander technique in the actors life" is the title of my book for actors published NOW (1st June 2018)
by Triarchy Press isbn: 978-1-911193-43-2
Available from The Royal National Theatre bookshop, Samuel French at the Royal Court, (both in London),The International theatre bookshop - Amsterdam, Paragraphe bookshop University of McGill- Montreal, Charlie Byrne's - Galway, Ireland and from www.triarchypress.net
as well as Amazon
'Before' is when the Alexander technique best helps the Actor (and public speaker) to think & act creatively both in role preparation and everyday life.