READ A BOOK LIE DOWN ON A BOOK
Alexander technique lessons with Teacher Kate Kelly in Mayfair...
Find great books (including mine) - at the Mayfair Library!
You will find Kate's book "Before the Curtain opens Alexander technique in the Actor's life" NOW in bookshops & libraries and from www.triarchypress.net
You can see Kate being interviewed and talking about her book on you tube! https://www.youtube.com/watch?v=kplf_5Jlbpc

"I find Kate Kelly's capacity to cover a great deal of ground wittily and succinctly very engaging. The writing was itself a kind of Alexander lesson and I felt better for it."
Stephen Dillane, Actor
"I have been reading your marvellous book. I think it's an amazing achievement and beautifully written. And a great handbook to dip into while working. Congratulations".
Olwen Fouéré, Actor, writer and director

Published on 1st June 2018 isbn: 978-1-911193-43-2 £14.00
Available from the publisher Triachy, Amazon. Also: Waterstones online, Samuel French bookshop at the Royal Court theatre London and at the Royal National Theatre Bookshop South Bank London. In the Netherlands it is available at the International Theatre bookshop, Amsterdam, in Ireland at Charlie Byrne's bookshop Galway and in Canada at the bookshop Paragraphe on the McGill University campus Montreal.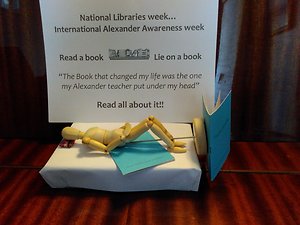 The Alexander Technique Mayfair Central London W1
Alexander technique Mayfair
Enjoy some time to stop and experience 'relaxation in activity'.


Learn with gentle hands on guidance and verbal instruction a very effective self help method.

*Inspire your creative mind

*Secure poise and confidence

*Prevent any physical and mental habits that cause harmful stress and tension

*Safeguard against back and neck strain

*Increase feelings of calm and happiness



Welcome to the website of teacher Kate Kelly

I am an Alexander technique teacher working in Mayfair near Oxford street Central London W1, not far from Bond street station (Central and Jubilee lines) , Selfridges, on Oxford street, and Grosvenor square.
All the buses that run on Oxford street have stops 2 minutes away.
I teach mostly on Tuesdays & Thursdays from 11am

I have been teaching the technique for over 35 years and am a member of the UK professional society of teachers of the Alexander technique (STAT).
Mayfair is where I teach hands- on individual lessons (how the technique is taught).
These lessons last 45 minutes The standard cost is £60.00 per lesson but there are
Concessions also available, please ask.

In past years I have given many Introductory workshops at Morley college SE1, as well as courses for Alexander teachers in Montreal, Belgium, Vienna & Belfast. I am also a moderator for trainee Alexander teachers in London and Brussels.